We offer Paintless Dent Repair for those smaller dents and dings that qualify. Paintless Dent Repair is an alternative to full body repair using less time and expense. Some small dents and dings can be fixed without requiring refinishing the vehicle. Drop in anytime for a quick inspection to determine if this option works for you.
Paintless Dent Repair
For minor dings and dents on your auto, it can save you money to ask a technician at a Logan car body repair shop about paintless dent repair. Don's Auto Body technicians have the skills and tools to remove damage done by hail storms, parking lot dings and even curb dents that mar your bumpers. The next time someone nicks your car's body with their door , ask the experts at Don's Auto Body Repair about paintless dent removal. We'll see if your dent qualifies. If it does, you could save some money.
Elastic Paint
Today's paint has an elastic quality that allows it to stretch even when dents occur. This is a great development for automotive body repair in Logan. The paint elasticity allows it to survive the impacts that result in dents. Elastic paint stays with car body metal as it stretches. In fact, the paint color and covering may still be good after a minor dent, meaning it's possible to easily fix a dent.
When you get a dent in your car, you may not know how important it is to consider the size of the dent. A small dent is often repaired with paintless dent repair. In truth, we repair it more easily than deep and narrow dents.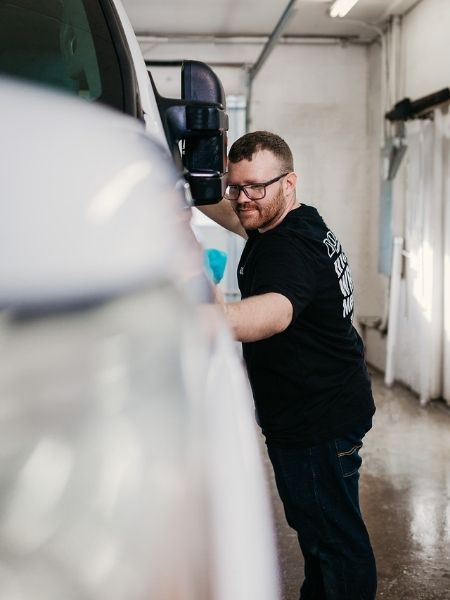 Even with New Paint
If you drive defensively and care about your car, you may pick up only minor dents over the years. Even when you want new paint, paintless body dent repair may be the repair of choice. If you have only minor dings, paintless body removal is a great way to prepare your automobile for fresh paint. These paintless dent repair jobs can be an inexpensive way to get a new paint job at our Logan car body repair shop.
Paintless Dent Repair is an Option
Paintless dent repair is popular. Think of those big car rental companies operating everywhere, with thousands of cars. They use paintless dent removal on their fleet cars. People who put their used car on the market use paintless dent repair because they want no tell-tale signs of dents. It's an effective and inexpensive way to fix nuisance dents.
Most common paintless dent repairs are quick and inexpensive. You'll save money if you qualify at our automotive body repair in Logan. One of our skilled technicians can do a paintless dent repair in a fraction of the time it takes to mend a serious dent. Feel free to bring up paintless dent repair if you believe your car qualifies for the service.
Call Today For A Free Estimate
Contact us for a free estimate or come stop by. No appointment necessary!

Mon - Fri: 8 am to 5 pm
Saturday & Sunday: Closed
24-Hour Towing